As seen on various runways during fashion month, untraditional textured jackets that designers such as Bottega Veneta and Versace included in their Spring/Summer '23 collections are the ultimate combination of fun and function this year. Whether you're opting for a bold colour or avant-garde shape, we encourage you to be daring and bold – think various textures, silhouettes, colours, and materials in your outerwear selection. 'Tis the season, after all.
Statement jackets are an accent piece and a quick way to refresh a smart but overplayed outfit. Whether it's colour, pattern, texture, or a mixture of all three, this outerwear item is a fun and easy addition that can be thrown onto a multitude of ensembles to mix things up.
In pastel shades and altogether brighter colourways, these jackets – spotted by the Previdar team from various fashion industry tastemakers on social media – perfectly telegraph an elegant exuberance, even when the sky is grey. From buttery leather iterations rendered in colour-blocked monochrome, quilted, patchworked or crafted from tweed, these tactile, textured jackets provide a slick reprieve from the padding of a puffer or the weight of a winter coat. With their lighter texture and shorter length, they're an ideal choice to transition your wardrobe into other seasons as well.
The statement jacket is also an easy way to add polish to understated and off-duty outfits. Whether worn atop crew-neck sweaters or paired with neutral-toned pants, this outer layer commands attention – leaving you free to simply shrug on and go, without the need for further accessorising.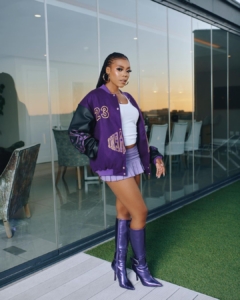 Valentino crafted a statement jacket and infused their modish all-over white pattern. Comprising an iconic shade of red, the jacket makes a bold statement about being daring and audacious enough to break contemporary fashion boundaries. Moreover, the jacket's dual nature makes it the perfect outerwear item for both chic and streetwear-inspired outfits.
For an urban take on the quintessential bomber jacket, Gucci meshed their signature architectural silhouettes and contrasting textures to propose a rendition that is anything but classic. With its bold colour combination, the jacket is ideal for slipping over chunky knits. Thanks to its floral design, Gucci's bomber jacket will feel just as fresh when layered with a white cotton dress during spring. Making a statement about being wild and free, the jacket comprises artistic designs of butterflies, which are often a symbol of transformation.