Metallic renaissance and a nod to noir, nostalgic 90s minimalism, and reinvented timeless staples – the Spring/ Summer 2024 fashion extravaganza showcased the ultimate trend guide for your sun-season wardrobe.
Following weeks of extravagant fashion shows across New York, London, Millan, and Paris, the Fashion Week frenzy is officially over! With summer being on the horizon in the Southern Hemisphere, we're finally able to turn our attention to the voguish Spring/ Summer 2024 trends that were showcased during fashion month. Now, while you might still be wearing ankle boots and a light cardigan as you're reading this, rest assured, modish tank tops and flowy floral dresses are just around the corner.
Nowhere was this more apparent than at Gucci, where the theatrical camp of the previous designer has been replaced with measured staples. The new man in charge, Sabato de Sarno, delivered a show filled with understated shirts, suits, and micro dresses that were downplayed to the point of almost, but not quite, bland.
Gucci SS24
So with that in mind, it's time to clue up on all the biggest styles, colours, prints, and "It-pieces" that are set to dominate the sun season. Not only will checking out the biggest trends now make you look super "in the know" when shopping with your mates, but you'll also be aware of what to look for on the high street, meaning you can snatch up the "It-pieces" before they inevitably sell out.
Below, we have scoured the runways of the fashion hubs to bring you a curated edit of the only trends you need to know this season. Something to remember is that there's always a handful of smaller micro trends you might want to experiment with halfway through the season but, to start, we're going to focus exclusively on the biggest trends for 2023. From the colours and fabrics you'll want in your wardrobe to the cool details you'll start seeing everywhere – here's a list of our top picks:
Metallic Renaissance
Prabal Gurung SS24
A melting pot of urban aesthetics was showcased in The Big Apple, New York City. Exploiting the metallic rage from recent months (certainly in no small part due to the Renaissance Tour), New York Fashion Week exhibited innovative takes on all sorts of metallics.
Grace Ling SS24
Emerging designer Grace Ling – who already has a popular silver bag featured stunning metal work including chest plates, a chrome rose skirt, and a "glitched corset" in her New York Fashion Week debut. Meanwhile, Prabal Gurung sent models down the runway each wearing one oversized organic gold earring, and for those who love a more traditional metallic fabric, that was a motif at the likes of LaQuan Smith, Ralph Lauren, and The Blonds.
149,00 ZAR
1,099 ZAR
90s Minimalism
Altuzarra SS24
New York designers have revived the 1990s this season, evoking a sense of nostalgia on the runway. Gone are the days of busy patterns and ornate embellishments; instead, the runways were a masterclass in the art of 'less is more.' Lean into the 'greige' of it all and get inspired by the parade of sophisticated slip dresses to monochromatic pantsuits. Somehow, it feels as fresh today as it did three decades ago.
Altuzarra SS24
329,99 ZAR
Classic Noir
Altuzarra SS24
A perfect fit for the commonly monochromatic wardrobes we find across the Nordics, an all-black palette dominated the SS24 collections of many New York designers. Keen to make this heat-absorbing hue suitable for summer? Opt for designs in flowing, lightweight fabrics.
Ralph Lauren SS24
799, 00 ZAR
Sheer Moments
Holzweiler SS24
Sheer fabrics have been trending for a while now, but it's safe to say they're here for the long haul. With London's spring/summer 2024 shows, we saw designers shift from creating pieces wrapped up in the shock value of a "naked dress" to something else entirely. Of course, sheer textiles are already inherently avant-garde, but British designers chose to up the ante by shifting the focus. It was less about this textile's visible opacity and more about the malleability of this material, which was evident through how experimental designers were with draping.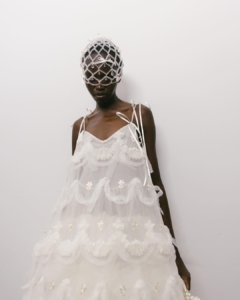 Simone Rocha SS24
250, 00 ZAR
Modern Coquette
Sixdo SS24
All things decadent and hyper-feminine continue to be at the forefront of fashion, with countless brands leaning into various aspects of the coquette aesthetic for spring 2024. Christian Siriano debuted a whole ballet core collection, while Mirror Palais leaned into nostalgic elegance with ruffles, corsets, and over-the-top chokers galore. With coquette being an existing trend, we're seeing designers push the boundaries by introducing tailoring, athleisure, and plenty of bold silhouettes into the mix, proving the number of possibilities is higher than you can tie your Audrey Hepburn-inspired updo.
Sixdo SS24
The 21st-century coquette is happy to flit from the runway to the red carpet, to your FYP. On-screen, you'll see the aesthetic's influence in Bridgerton or Greta Gerwig's Barbie. Coquette beauty trends are all over the runway from designers like Miu Miu, Sandy Liang, Simone Rocha, Dior, and Chanel.
499,00 ZAR